When you configure a mail client, you need to detail your SMTP settings which will ensure a proper connection with your SMTP server provider – and thus a correct delivery of your emails.
There are lots of free SMTP servers associated to common ISPs and email providers (the most popular being Gmail and Yahoo), but only a professional outgoing server can guarantee the highest deliverability of all your emails. In fact, not every sent message is automatically a delivered one, as even a legitimate email may be rejected by a severe antispam filter. A dedicated SMTP server like turboSMTP, on the contrary, provides a reliable way to avoid these annoying troubles.
That said: how to set up an SMTP server for a mail client? The typical window would look like this: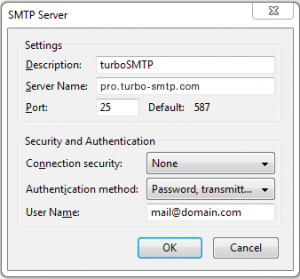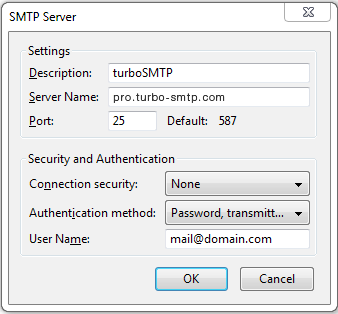 Here's a quick explanation of all the fields:
Description: it's an informal name associated to your SMTP server.
Server name: the actual SMTP specification. Below you find a handy list of all the server names for the most common email providers.
Port: SMTP servers normally use port 25 to work, but there are other options.
Connection security: the standard SMTP email transfer goes without encryption, so it can be a good idea to secure it with STARTTLS or SSL/TLS.
Authentication method: it can be a plain text password, a cyphered one, POP before SMTP, CRAM-MD5, KERBEROS, NTLM, etc.
User Name: your email address.
And here's a list of the most popular server names. If you don't find yours, check out our article about "What is my SMTP" or contact your email provider.
| | | |
| --- | --- | --- |
| PROVIDER | URL | SMTP |
| 1&1 | 1and1.com | Smtp.1and1.com |
| Airmail | Airmail.net | Mail.airmail.net |
| AOL | Aol.com | Smtp.aol.com |
| AT&T | Att.net | Outbound.att.net |
| Bluewin | Bluewin.ch | Smtpauths.bluewin.ch |
| BT Connect | Btconnect.com | Mail.btconnect.tom |
| Comcast | Comcast.net | Smtp.comcast.net |
| Earthlink | Earthlink.net | Smtpauth.earthlink.net |
| Gmail | Gmail.com | Smtp.gmail.com |
| Gmx | Gmx.net | Mail.gmx.net |
| HotPop | Hotpop.com | Mail.hotpop.com |
| Libero | Libero.it | Mail.libero.it |
| Lycos | Lycos.com | Smtp.lycos.com |
| O2 | o2.com | Smtp.o2.com |
| Orange | Orange.net | Smtp.orange.net |
| Outlook.com (former Hotmail) | Outlook.com | Smtp.live.com |
| Tin | Tin.it | Mail.tin.it |
| Tiscali | Tiscali.co.uk | Smtp.tiscali.co.uk |
| Verizon | Verizon.net | Outgoing.verizon.net |
| Virgin | Virgin.net | Smtp.virgin.net |
| Wanadoo | Wanadoo.fr | Smtp.wanadoo.fr |
| Yahoo | Yahoo.com | Mail.yahoo.com |