Are You Using SendBlaster and Need to Send Timely and Reliable Mailings?
Using turboSMTP and SendBlaster, you will be able to send out a large number of emails without worrying about ISPs restrictions, email deliverability and blacklists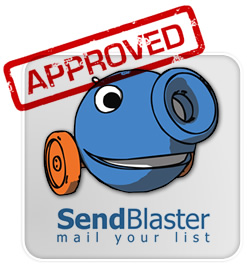 As you well know, SendBlaster supports all SMTP servers and authentication methods. For example, you can choose to send out your mailings through the SMTP service offered by your ISP, your hosting company or your personal email provider.
The point is that finding a good SMTP service can be a major headache, especially if you are serious about email marketing.
If you need to maintain and process large email mailing lists, you may be faced with some common SMTP problems. In fact, standard SMTP services tend to impose speed limits and to limit the number of emails tha can be sent sent per hour or per day. In addition, standard SMTP services are forced to use aggressive anti-spam filters and refuse the sending of certain messages. These may even be blocked regardless of the legitimacy of the sender and the content.
All these issues can be easily fixed by switching to turboSMTP Professional SMTP Service.
You will continue using SendBlaster the same way you are doing now but you will see immediate benefits:
Send emails without restrictions and at the maximum speed using up to 10 simultaneous connections
Improve email deliverability and reduce the number of messages filtered by mistake
Monitor emails sent and delivered with real time charts and reports
If you want to start sending out your mailings through our professional SMTP servers and maximize your email deliverability, you can purchase one of our pre-paid or monthly recurring plans.
Our prices start as low as 14,95 Dollars for 50.000 emails per month!
No set up fees
No bandwidth charges
No hidden fees
Setting up turboSMTP in SendBlaster is easy as 1,2,3!
Simply, select the "Send Panel" from SendBlaster and follow these simple instructions:
SMTP server: insert "pro.eu.turbo-smtp.com" for EU countries, otherwise "pro.turbo-smtp.com".
Port: 25.
SSL (optional): this checkbox enables SSL protocol. If you want to use it, select it and change port to '465'.
Authentication required: Select the checkbox
Username: insert the email address that you have registered with turboSMTP.
Password: insert your turboSMTP password.
Finally hit the "Connection test" button to check configuration is correct.