Webmail services like Hotmail are great to check your email account online: but you might want to access your inbox from a desktop software like Mozilla Thunderbird or Microsoft Outlook. In fact, a mail client can be handier and generally provides more tools for your account management.
To do that, it's necessary to set up Hotmail's SMTP settings. Which is very easy: but…
Unfortunately, Hotmail's own SMTP puts a limit on outcoming emails, to deter spammers from taking advantage of it, and make their shared IPs work better without email queues: so you can send a maximum of 300 messages per day and manage up to 100 recipients per message.
So if you're setting up an email marketing campaign or need to get more relays you should rely on a professional SMTP Relay service, that will allow you to send unlimited messages. In particular, turboSMTP offers you 6000 free emails per month, forever.
That said, here's how to set up Hotmail's SMTP server: you'll just need to open the configuration panel in your application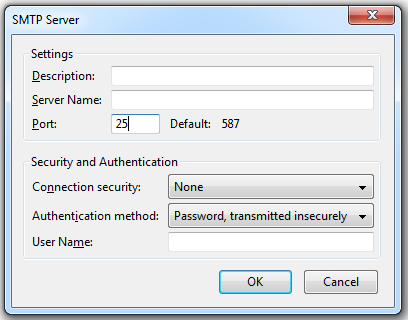 and enter the Windows Live / Hotmail SMTP details:
Hotmail SMTP server name: smtp.live.com
Hotmail SMTP user name: your Hotmail account
Hotmail SMTP password: your Hotmail password
Hotmail SMTP port: 25 or 465
Then you can choose your security and authentication options: for further information please check our article about SMTP configuration.
And that's it!