You can set your SMTP settings for ArcLab MailList Controller after having entered an email list or a new user account.
An SMTP (Simple Mail Transfer Protocol) server is the machine that takes care of the email delivery process: every provider has its own, with a specific name and address.
Remember however that only a professional SMTP service can ensure you a the highest delivery rate (as not any sent emails is automatically delivered, because of antispam filters or bad IP reputation). So if you need to send a certain amount of emails – e.g. if you're setting up an email campaign – you should consider to switch to such a service.
To configure your SMTP server for ArcLab MailList, anyway, you must access your "Account Settings" or "New List" area and skip to the final page called "SMTP Server and Account for Outgoing Messages":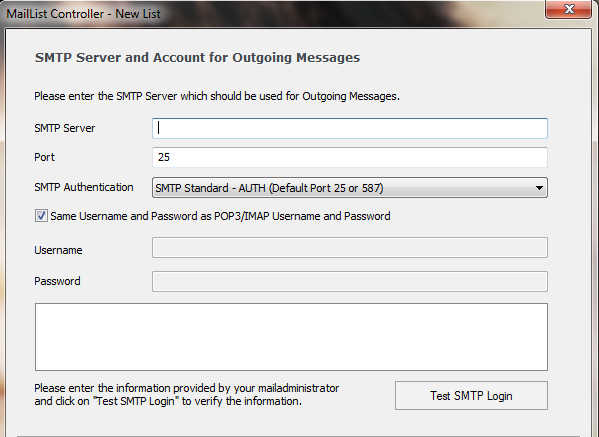 Here you should enter the following information:
SMTP Server: your SMTP server name. If you don't know it, have a look at our list of the major ones.
Port: the default port is 25 or 465 if you choose to send encrypted messages; to know more check our article about ports for SMTP.
SMTP Authentication: if you want to send emails with authentication, choose this option and then set your username and password in the fields below

.
Eventually click on "Test SMTP Login" to make sure that all parameters are correct, and that's it: you're ready to send outgoing emails with ArcLab!
Here's a quick video recap: