When it comes to email marketing, it's extremely important to have a complete control over the interactions that any user has made with your messages, to verify the effectiveness of the whole campaign.
That is why turboSMTP's advanced dashboard provides a real-time, accurate statistics of clicks and openings – giving you both the general rates and the status of each recipient, allowing you to know every time who and when has interacted with your email: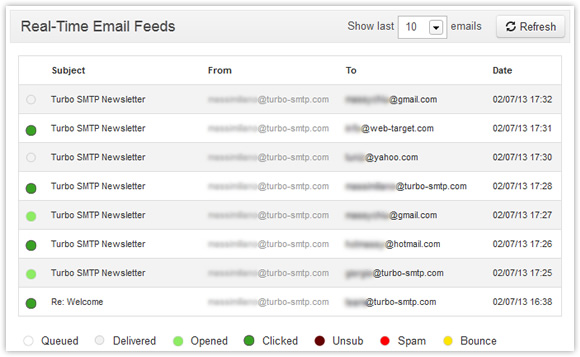 It's a very useful feature if you send:
Transactional emails: it's vital to keep track of automatic messages like confirmation emails, personalized messages, checkout or subscription alerts etc.
DEM and newsletters: the effectiveness of your email campaign strictly depends on obtaining a confirmation that all messages have reached the targeted inbox.
Personal emails: as any teenager has always been aware, it would be great to know if a love letter has been delivered…
Business emails: any work-related email (an offer, a cv, a simple answer to a question): keeping track of them may help you understand for example why you haven't got an answer yet.
To be sure, our tracking system works with every mail client: you just need to register, start using turboSMTP and you'll get a complete access to our advanced dashboard.