ThingsBoard System Administrator can configure a connection to an SMTP server. Here is the instruction on how to set up a reliable SMTP server as TurboSMTP.
1. Log in as a system administrator
Login to your ThingsBoard instance WEB UI as a system administrator using the default account.
2. Change the administrator's email address
Right-click on the burger in the top-right corner of the WEB UI and select 'Profile'. Change 'sysadmin@thingsboard.org' to your email address. Now re-login as administrator again.
3. Open 'Outgoing Mail' and populate SMTP server settings
Navigate to System Settings -> Outgoing Mail and populate the form. Click on the 'Send Test Email' button.
A test email will be sent to the email address that you have specified in 'Step 2'. In case of a configuration error, you should receive a popup with the error log.
4. TurboSMTP configuration
TurboSMTP configuration is fairly simple. First, you need to create a TurboSMTP account: https://serversmtp.com/en
Then you will get your TurboSMTP credentials:
| Information | Value |
| --- | --- |
| SMTP Name | TurboSMTP |
| HOST | pro.turbo-smtp.com |
| PORT | 587 |
| ENCRYPTION TYPE | TLS/SSL |
| From Email (Verified in SMTP) | Write the email which you've verified in your TurboSMTP account |
| USERNAME/API | Write here the login email which you've got from your TurboSMTP account. |
| Password/Secret KEY | Write here the password which you've got from your TurboSMTP account. |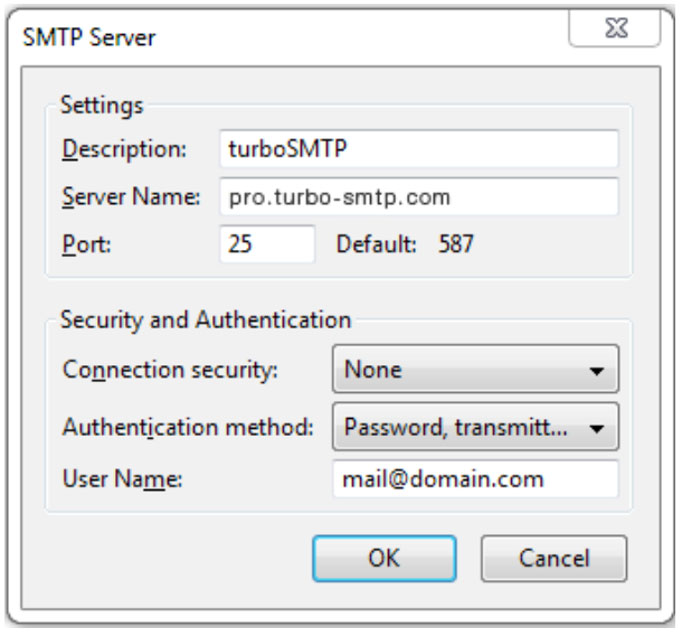 Then go to the ThingsBoard mail settings.
Copy-paste the settings, update the 'Mail From' field, and click on the 'Send Test Mail' button.

Once you receive the notification about a successful test, save populated data.
5. Save configuration
Once you will receive the test email you can save the SMTP server configuration.
Congratulations
!ThingsBoard is now configured to use the Turbo SMTP server.