The definition of a transactional email is a message that follows an action carried out by a subscriber or a customer. That action could be subscribing to a list, purchasing a product or service, requesting a password reset or cancelling an account, for example. Transactional emails are essential for brand credibility. Although they are not promotional, they are vital for customer loyalty because their punctuality and accuracy help to build the reputation of brands, websites, and online stores. Transactional emails not only transmit practical information, they also display the reliability and security that Web users need. In short, transactional emails are the business card of every online activity.
If you sell products or services, you know how important it is that the email order confirmation reaches the recipient's inbox on time. Your customers are looking forward to that confirmation, and they'll become frustrated and concerned if it does not arrive, especially if they've made a big purchase on a computer, smartphone, or professional software. As they're left waiting, your brand starts to lose credibility. That's why it's vital to make sure that your transactional emails always reach their destination and don't end up in spam. A mistake or even a delay in these messages could cause you to lose a lot of your existing or potential customers.
Transactional Emails Versus Marketing Emails
There are significant differences between transactional emails and newsletters or marketing emails. The first is functionality: while email marketing campaigns are a tool for developing your business, transactional emails are an essential pillar without which your brand would collapse.
Transactional emails are also the main one-to-one communication tool between brands and customers. They're sent for a specific reason in response to a specific user action. Newsletters and promotional emails, on the other hand, are sent to a list of contacts at scheduled times. They constitute what we can define as a one-to-many communication. They're perfect for arousing the interest of your contacts, for encouraging clicks and interactions, and for making your brand popular.
For any business, an email marketing strategy is hugely important, but sending transactional emails is an essential part of the business process, and must be as reliable and efficient as possible. This is why it is important to contact an external service that optimizes deliverability and gives you access to sending statistics.
The 5 Types of Transactional Emails
There are five types of transactional emails:
Account confirmation
Order confirmation
Notifications (order tracking, new messages, etc.)
Account access recovery
Invoices and receipts
Examples of Transactional Emails
1. Registration Confirmation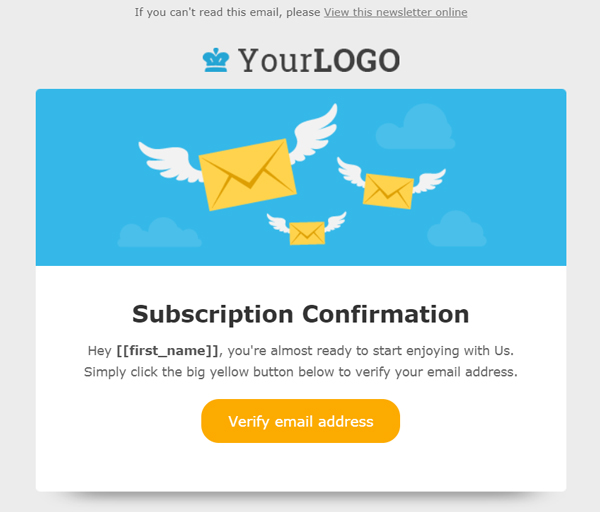 Creating an account is the first contact between the brand and the future customer. When the user enters their data to create an account on your site, they're showing an interest in your business. Now you have to make sure that the transactional email with their subscription confirmation reaches them immediately. If you have chosen a double opt-in confirmation, the first email that the user receives will be to confirm their email address.
2. Order Confirmation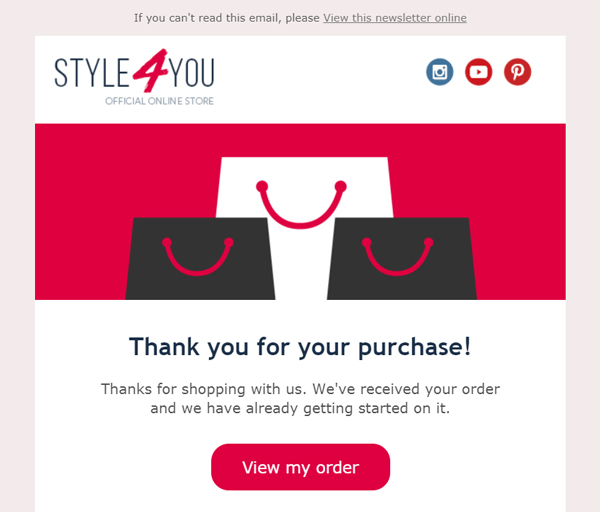 Whether you are selling products or services, it is essential that users trust your brand. One of the most important ways to make the right impression and build your reputation is to send order confirmation transactional emails. These emails must reach their destination as soon as the customer completes their request. Your punctuality will reveal professionalism and reliability, and increase the customer's sense of loyalty.
3. Notifications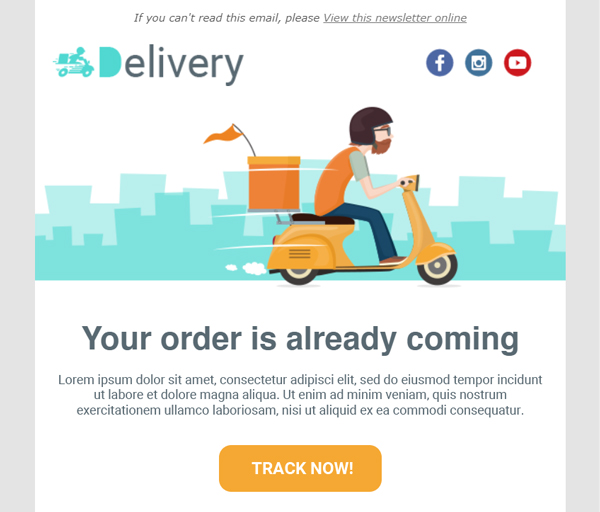 Another type of transactional email concerns notifications, such as shipping notices or delays, the tracking link of a package, or a message received from a seller on an e-commerce platform with several sellers. Any update that needs to be communicated to the user falls into the category of notification emails.
4. Account Access Recovery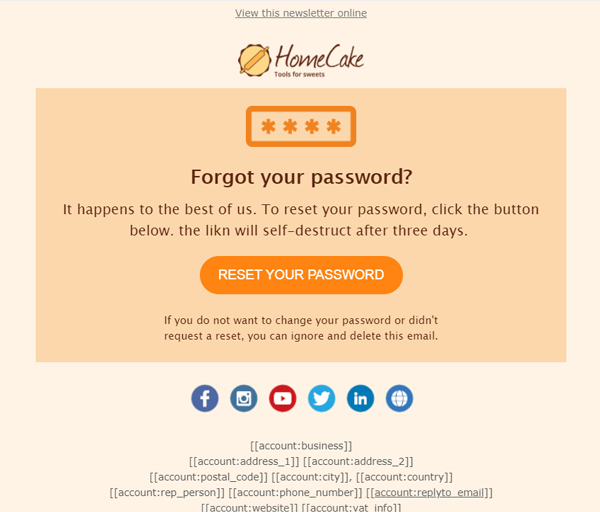 How many times have you registered at a site, then forgotten your password? You're not alone. Once users have asked for a password reset, they must immediately receive a transactional email that allows them to complete the operation by simply clicking an internal link.
5. Invoices and Receipts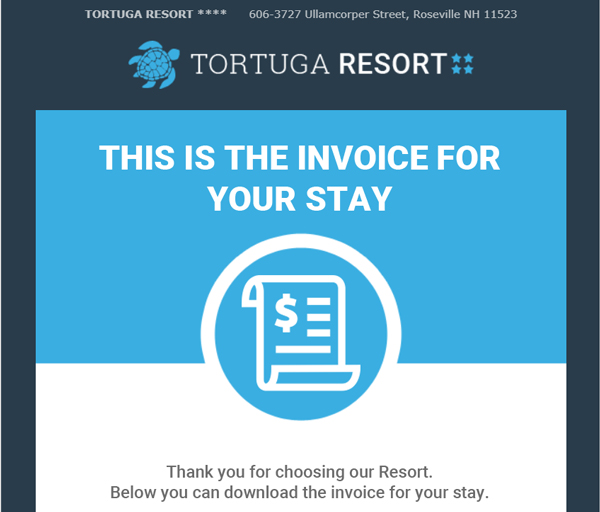 Sometimes it is possible to send payment receipts and invoices with the order confirmation. There are times, however, when you'll need to send such transactional emails separately. Car sharing services, for example, email the invoice at the end of the journey. Subscription services send their invoices at periodic intervals.
How to Send Transactional Emails
You can't send transactional emails from a simple email account. To act promptly and ensure an excellent online reputation, you need to use an external SMTP service that sends automatic emails, optimizes deliverability, and ensures immediate and safe delivery.
Send Your Transactional Emails Directly from Your Site or App
All transactional communications must start from your page. With turboSMTP, you can send your transactional emails directly from your site or your app in different ways:
You can also use webhooks events and have access to instant tracking and unlimited statistics.
Choose turboSMTP for your transactional emails
turboSMTP is a professional SMTP service provider dedicated to the reliable delivery of transactional emails and newsletters. Our goal is to ensure maximum deliverability. We make sure that all email servers recognize our messages as safe. We monitor blacklists and we cultivate relationships with major email providers. Thanks to a professional SMTP service like turboSMTP, you will ensure the delivery of your transactional emails — and you'll get much more:
High speed delivery
Whitelisted servers
Open and click tracking in real time
Updated statistics
Deliverability support
Management of bounces, spam reports, and unsubscriptions
Multilingual assistance 24/7
Flexible and custom plans
Transactional Emails: Brand Reputation and Marketing Opportunities
Transactional emails have a higher open rate than other types of emails. The recipient wants to receive them. They're waiting for them, and as soon as they receive them, they'll open them, read them, and click the links to make sure that their operation, transaction, or request has been successful. Newsletters and commercial emails never get that level of interaction! So why not take advantage of the popularity of transactional messages?
Take Care of the Appearance of Your Transactional Emails
Use MailStyler – our email template editor – to create eye-catching and engaging transactional emails. Customize them with your brand colors and your logo, and stand out from the crowd. The better your message looks, the deep the impression your brand will make.
Invite the Customer to Take Action
Transactional emails don't always include a call to action. Given their high opening rate though, they should! Nothing prevents you from personalizing transactional messages with purchase suggestions, recommendations, promo codes, and more. Amazon always inserts customized purchase suggestions in its transactional messages. If you like that, your customers will like it too!
---
What are you waiting for?
Send your transactional emails safely, build customer loyalty, and improve your reputation online

Stand out from your competitors, create beautiful templates and customize your transactional messages