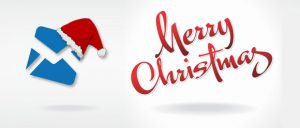 Christmas is clearly a big moment for email marketers: offers and gifts are ready to be advertised, as people are much more willing to buy. But not only that. Also a simple Christmas newsletter sent out to all your subscribers wishing them happy holidays will be highly appreciated. (Even people who say to hate this period will like it, believe it).
So how to send a proper Christmas email, be it a commercial offer or a simple compliments card?
There are some basics that everybody knows: a good seasonal newsletter template, a relevant and possibly very targeted offer, and a positive aura all around your content (smile, it's Christmas!). Plus, you absolutely need to be on time: your subscribers's inboxes will be loaded with other proposals and offers, so it's important not to delay too much – and to think about an enticing email subject.
But there's also the technical aspect of mass emai sending. This is extremely important, now in particular: your Christmas newsletter campaign will be a crucial part of your yearly marketing strategy, so it's necessary that all emails will be correctly delivered.
It's also likely that on Christmas you will be sending out more messages than the usual: not only marketing related, but also transactional emails (reminders, receipts, etc.).
That's why it's vital to rely on a professional SMTP server to send out your holiday newsletters: because no matter how many they are, you need them all to get to the inboxes. Which is exactly what turboSMTP will guarantee: subscribe now and get 6.000 free emails/month, and then upgrade according to your needs – whether you prefer to buy a prepaid package, or a monthly plan.
And, of course, happy Christmas!
</