turboSMTP is a family of connected workers from around the world. In our extended family, we always have room for new members with smart ideas.
Who we are
turboSMTP is a professional SMTP service within everyone's means. The world of email is constantly evolving and we want to lead the change. We truly believe that a more connected world means more success for everyone. That's why we created an easy and intuitive platform to level up companies' communication strategies and improving the connection between brands and customers.
Our Values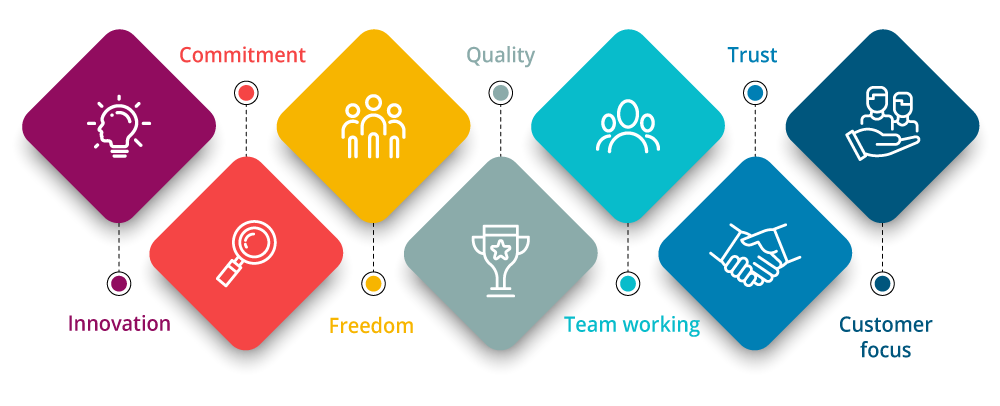 We believe that digital evolution can improve businesses large and small anywhere in the world. This is why our team works to make a difference in the digital sector and prioritizes our customer relationships. We always follow our values.
Turbocharge Your Career
At turboSMTP everyone can present their ideas. Our projects are born in a stimulating, multicultural, and harmonious environment which can also be built totally online thanks to the possibilities offered by the Internet today.
Whether you want to work remotely or in our office, we're good! What matters is your talent and the desire to contribute to the evolution of our products, which are already well positioned internationally.
What We're Looking For
Our company is always ready to welcome new team members who can help develop our digital projects. If you're proactive, independent, passionate about email marketing and digital technology, and believe in what we do, you're the person we're looking for.
Come grow with us!
System Engineer – Remotely
Location: Remotely work | Job Schedule: Fulltime | Career Level: Experienced
Open Job Details
We're looking for a talented Systems Engineer to help build out, maintain, and troubleshoot our infrastructure. We're interested in automating as many of our processes as possible to reduce the potential for human error. You will be part of a talented team of engineers that demonstrate superb technical competency, delivering mission-critical infrastructure and ensuring the highest levels of availability, performance, and security.
Essential job functions:
Monitor existing systems to ensure structural integrity
Install, configure, test, maintain, and upgrade operating systems, application software, automation, and system management tools
Maintain security, backup, and redundancy strategies
Manage, and maintain development operations, automation scripts, and automation software
Keep infrastructure, operating systems, and packages up to date
Work with developers on the design and analysis of new systems
Ensure constant availability of technical resources
Monitor and test application performance for potential bottlenecks, identify possible solutions and work with developers to implement those fixes
Job Requirements
Bachelor's Degree in Information Technology, Computer Engineering/Science or related field required
Proven track record of success in installation, configuration, and maintenance of LINUX-based software and environments
Solid experience in the administration and performance tuning of web servers (Nginx is a plus)
Experience creating automated scripts and automation software (Puppet is a plus)
Experience with monitoring systems (Nagios is a plus)
Experience with virtualization and containerization (LXC and OpenVZ is a plus)
Solid scripting skills
Solid networking knowledge
APPLY FOR JOB
Sales Manager – Remotely
Location: Remotely work | Job Schedule: Fulltime | Career Level: Manager
Open Job Details
To support the activity of our turboSMTP Sales team, we are looking for four enthusiastic Sales Advisors in Smart Working (one who speaks English, one who speaks Spanish, one who speaks German, and one who speaks French) to manage and acquire new customers worldwide.
Responsibilities:
Management and conversion of inbound leads.
Finding new customers.
Development of commercial opportunities for media agencies;
Consultative sales-oriented towards the construction of value solutions.
Scheduling meetings with potential customers.
Negotiation of economic proposals.
Constant management of customer relations.
Sales forecasts and reports.
Job Requirements
Minimum 2 years of experience in B2B sales.
Experience in advertising and/or media / IT/innovation sector.
Proven ability to acquire new customers in the IT sector and in particular in digital marketing.
Good knowledge of email marketing and marketing automation.
Good knowledge of sales techniques.
Good knowledge of how to reach the target.
Good knowledge of marketing tools.
Proficient English
Resourcefulness and Entrepreneurship.
Desire to be part of a growing international company.
APPLY FOR JOB
Full Stack Developer – Remotely
Location: Remotely work | Job Schedule: Fulltime | Career Level: Experienced
Open Job Details
We are looking for talents to be included as senior developers within the team that deals with the creation and maintenance of our cloud services.
Responsibilities:
Serve as a back-end tech lead on large scale projects
Develop new features and infrastructure improvements in support of rapidly emerging business and project requirements
Implement technical strategic decisions in cross functional teams
Work closely with product owners and engineers to design, implement, continually improve highly scalable applications and services
Job Requirements
5+ years of backend Linux/Apache/PHP/MySql development experience with modern frameworks
Proven hands-on experience in designing, building, improving and operating high-performance, highly-available and scalable distributed systems
Expert knowledge of computer science, with strong competencies in service-oriented architecture, migration and cloud
Experience at an enterprise SaaS company
Excellent communication skills
APPLY FOR JOB