If you're using Mozilla Thunderbird as a mail client, it's essential to configure your SMTP settings in order to correctly send emails out.
An SMTP (Simple Mail Transfer Protocol) server is simply the machine that takes care of the email delivery process: every provider has its own, with a specific name and address. So when you use Thunderbird to send messages you need to give these instructions to the software, to make it employ the correct outgoing server and mail out every message.
Remember however that only a professional SMTP service like turboSMTP can ensure you the highest delivery rate (as not any sent emails is automatically delivered, because of antispam filters or bad IP reputation).
Here's the process to set up an SMTP for Thunderbird: open the client, select "Account Settings" from the "Tools Menu" and click on "Outgoing Server (SMTP)". Then click "Add": the software will display this popup window: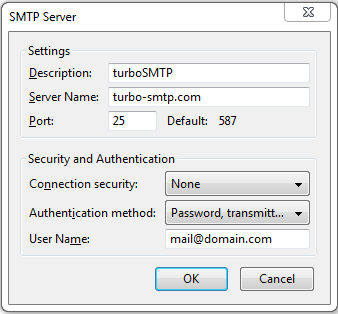 Now fill the field with these information:
"Description": enter a general name for your SMTP server.
"Server Name": enter its address. You can check our list of SMTP settings to find yours.
"Default port": type 25 (or another available port:).
"Connection security": either none or SSL.
"Authentication Method": you can choose among different options. Read our general article about how to configure an SMTP server to know more.
"User Name": your email address.
Now, after having clicked OK, Mozilla Thundebird is ready to go.
That said, however, remember that in general Thunderbird is not the right tool for email marketing (having been created mostly for one-to-one messages and not for mass email sending).
Beyond the problems with SMTP servers, Thunderbird can therefore generate other difficulties when it comes to send a newsletter. That's why we recommend that you rely on a dedicated sending software like SendBlaster: it's the best way to manage your email campaigns & lists!