The iPhone is great to check and send your emails wherever you are. Unfortunately, if you are using a normal SMTP server – the one that comes with your account on Gmail or Hotmail or Yahoo – you need to change its settings any time you switch to another internet connection.
If you want to avoid this issue once for all you can opt for a professional SMTP service like turboSMTP: you'll just need to configure our server's settings once and it'll work no matter which ISP you're using; so it's ideal if you're travelling often and your eyes are always on your email account.
And here's how to set up an SMTP for your iPhone.
1. Tap "Settings > Mail, Contacts, Calendars".
2. Tap the email account from which you want to send messages (or add a new one if it's the case).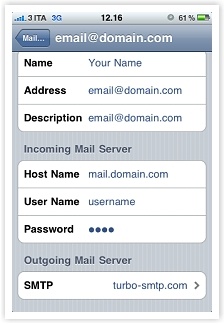 3. Tap "SMTP" under "Outgoing Mail Server", and then "Add Server…" This window will appear: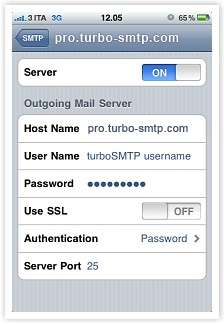 4. Enter all the needed settings:
Server: set "ON".
Host name: your SMTP server's name. If you don't know it, have a look at our list of outgoing servers parameters.
User name: your sending email address.
Password: the password you chose.- Use SSL: set it off – unless you have enabled an SSL mode on your SMTP server.
Authentication: tap on it and select "Password"; enter your password.
Server Port: the default port is 25, but some ISPs block it due to the increasing amount of spam; so you can set another one.
Tap "Done" and you're ready to send emails!